Please describe who or what influenced your decision to join the Army?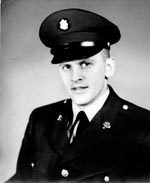 My Basic Training Photo
The Kennedy years were full of danger as we survived the Cuban Missile Crisis where many thought the world would blow itself up. Then Lee Harvey Oswald the assassin. was killed by a reported Mafia connected thug. Such instability prompted many of us to sign up. The thought of running away to Canada was unthinkable. How could this cowardly thinking solve our problems. The Kennedy library helped me obtain some audio that I used to make a video for a Vets cause. I sent the link to our Ambassador to Japan, President Kennedy's daughter. I then posted it on YouTube. I have made 6 videos and people enjoy them. They are not very long, if you want the links please email at cardhaven@aol.com. I often wonder what the world be like today if JFK lived. I wonder if the Viet Nam War would have been averted.
Whether you were in the service for several years or as a career, please describe the direction or path you took. What was your reason for leaving?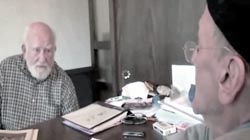 Joe interviewing Ed Asner about Vietnam
I left the active military but it was always in my heart. I have made several videos for Veteran's Causes though. I did an interview with Emmy Award Winner Ed Asner to help with the search of individual pictures, for the coming Virtual Vietnam Wall. I have been fortunate to be trained by Tom and Jim Reece. These two are leaders in the search for Vietnam KIA/MIA pictures and are most dedicated and recognized contributors. They are a blessing to our causes. Today I'm on the membership committee of Veterans Tickets Foundation (VETTIX) and have recruited hundreds of members. Membership is free and there are no obligations. Members receive free tickets to sporting, cultural and family events. The link to join is http://www.vettix.org/ref/167415. Now I spend my free time in doing what I can for Veterans
If you participated in any military operations, including combat, humanitarian and peacekeeping operations, please describe those which were the most significant to you and, if life-changing, in what way.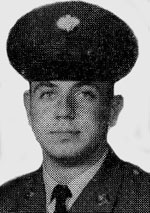 Tony Magistro
When I was at Fort Eustis I started a backgammon club. When we were shipped out to Viet Nam the members of the club sent us Backgammon Boards. I hear the game is still popular in those parts and I'm proud of that. Believe it or not, I disliked Fort Dix, New Jersey, which is about 50 miles from my home. The people seemed very edgy, though I admit their physical training was excellent and maybe it helped me in the long run. One night in Qui Nhon, Vietnam, we were awakened by our 1st Sgt saying that the hospital needs blood. Some of our boys had faced a horrific attack. 100 Percent of us volunteered and made our way to the hospital. I felt a great urgency to get there and wished that there was more I could do. There was what I would call a "Calm Panic" need to help these Veterans.

When I got to stateside and settled in, I started a very small campaign to help the morale of our troops going to Viet Nam and returning. I was honorably separated from the service after three years of active duty. My family made a Welcome Home Party for me. It was attended by Mary Magistro a friend of my the family and Aunt. Mary said her only son Anthony would soon be shipping out to Viet Nam and would I speak to him. I responded, "Of course I would". He was a wonderful guy, a very likable 21 years old. After 9 months in Vietnam Tony's helicopter crashed. Mary was devastated as her only child was now in God's hands. I felt very bad like I had survivor's guilt. When I learned that Congress had given land to have a Virtual Wall built on the National Mall, I spent about a year finding a picture of Tony. Both of Tony's parents were deceased and I knew of no living relatives. It was one of the happiest days of my life when I found a picture. Here is his Memorial Link: http://www.findagrave.com/cgi-bin/fg.cgi?page=gr&GRid=84398174
Of all your duty stations or assignments, which one do you have fondest memories of and why? Which one was your least favorite?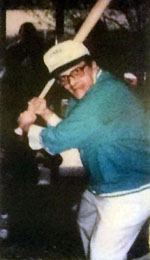 Playing Softball in the South
I really enjoyed my time at Fort Eustis, Virginia. I had lived my entire life in New York and it was a pleasure to get to know people from a different parts of the country. There surely is SOUTHERN HOSPITALITY. Being a civil war buff, this was heaven. Richmond, the capital of the Confederacy was nearby and there were many historic battles in that area. Colonial Williamsburg was really close and had a Revolutionary War feeling. Then there was Newport News, the great Naval Shipyard. It is considered by some to be the shipbuilding capital of the US.

The Naval Academy in Annapolis, Maryland wasn't far away either. There was so much to do that I had to plan my time very carefully on weekends to see all these different sites. Although Fort Dix was about 60 miles from my home, I didn't care for it. Everybody there was so stiff and edgy. I took Basic Training there and the NCO's did a great job in getting us ready for the real Army..
From your entire service, including combat, describe the personal memories which have impacted you most?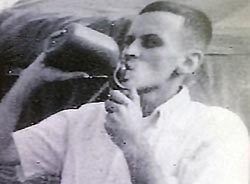 Joe quinching his thirst
I was on the troop ship USS Blatchford for a 30 day voyage to Viet Nam. The only shower you could take was a salt water shower. We were very cramped on that long sea trip. My duty was company pay specialist. I had to prepare the payroll enroute so our guys would be paid promptly in Viet Nam. I did this in a broom closet which was very hot. I enlisted Specialist Jimmy Jarbo to help me and he was a God send. We had to take many breaks just to clear our lungs and get some fresh air each hour as I was reading the Army Pay Regulations book. I noticed that if you were in a combat zone for one second of a month you were could be paid COMBAT PAY. This was $65 a month.

That was is in 1966. It's probably worth $200 in today's standards. The month was almost over and I knew we were close to Viet Nam waters. I got word to the Captain asking if I could get a certificate if we made it to Viet Nam waters before the end of the month. I was called up to the bridge and thought I would receive a verbal lashing. Much to my surprise when I got there the Captain ordered battle speed and we got to the magical waters to make us qualify for the extra pay. Word got around the ship, and I could see a great boost in morale. I always kept that in my heart and it guides my actions today.
What achievement(s) are you most proud of from your military career? If you received any medals, awards, formal presentations or qualification badges for significant achievement or valor, please describe how these were earned.
Please check the prior section, on my contribution to morale. I was proud of my work. I think I helped the spirit of the guys on the ship. They always knew that their family back home would receive the proper amount of money and it was one thing less for them to worry about. When my Commander was transferred, he called me in and said, " Thank you, you made my life easier". I was proud of the fact that every morning when I woke up, I would look at Qui Nhon Bay. It was always filled with ships with supplies for the troops. Uncle Sam never forgot us and on Thanksgiving day we had a wonderful meal.
Of all the medals, awards, formal presentations and qualification badges you received, or any other memorabilia, please describe those which are the most meaningful to you and why?

Presidentail Unit Citation
My Commanding Officer and I were driving in his jeep and we were not in a combat area. A very weak message came in on his walkie-talkie. It was from a Marine platoon, who were trapped. We picked up their coordinates which were only given twice. Luckily I remembered them. Captain Weeks sent them to HQ and the Marines were saved. This experience meant more to me than any medal I could be awarded. When civilians ask me about my Medals I tell them the proudest one I have is a PRESIDENTIAL UNIT CITATION. It was presented to the 71st Transportation Company, which I was a member of. I did make the rank of E5 (Specialist 5th Class). I had to go before a promotion board and finished second out of 200. I also needed a time waiver to be eligible and was promoted in less than 3 years.
Which individual(s) from your time in the military stand out as having the most positive impact on you and why?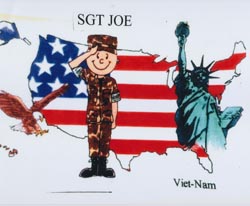 I work for Uncle Sam
My 1st Sgt Harry S Royal of the 71st Transportation Company in Fort Eustis had a huge impact on me. I was about two months out of Basic Training when I was assigned to the 71st Transportation Company to be the Unit Pay Specialist. When I arrived I was told to report to 1st Sgt Royal. He seemed very organized and strict Army to me. I prepared the payroll every month without incident. I then received a phone call from 1st Sgt Royal at 4 PM at Personal HQ. He told me the IG was going to be checking on a complaint made by a member of the 71st Transportation about his leave time. This soldier had several AWOLS which caused him to lose leave time. He claimed that his leave time was wrong. SGT Royal ordered me to have a report on his desk the following morning. I informed him that this would be a task that required a lot of time to prepare. He didn't care, he wanted the report lst thing in the morning.

I said to myself, "an order is an order", I had to take this hill as I was a soldier. It took me about 6 hours to complete that report as I had cite several regulations from different sources. In the morning I left the report with the company clerk and went down to the personnel office to my daily work. Around 9 AM I was told 1st Sgt Royal wanted me to report to him ASAP. I was scared stiff and wondered what extra duty I would be assigned to for handing in such a sloppy report. I arrived at the orderly room and 1st Sgt Royal had a scowl on his face. I said to myself here it comes, just take it like a man. Then 1st Sgt Royal complimented me on a fine report and that he didn't expect it from someone with such little experience. This incident taught me to have self confidence, to think positive at all times.
Please recount the names of friends you served with, at which location, and what you remember most about them. Indicate those you are already in touch with and those you would like to make contact with.
It's been over 50 years, but this is who I remember; Sgt James Shuler, lst Sgt Harry S Royal, SP 4 Jimmy Jarbo, SP 5 Roger Sizemore, Capt Joseph P Weeks, lst Sgt Arthur Pappas, SP 4 Lawrence Holub, SP 4 Dennis Garstecki, SP 4 Freddie Piluso, SP 4 Tony Grasso, Sp4 Ross Dinsmore and deceased Troy Thompson.
Can you recount a particular incident from your service which may or may not have been funny at the time, but still makes you laugh?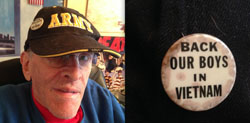 Support the Troops
The troop train from Fort Eustis, Virginia to San Francisco, California was an adventure itself. The route would slice through America and we would see all the raw emotions of the time. We knew we were going to Viet Nam but what part of Viet Nam was a mystery. Every day there would be new rumors as to where our final destination would be. We would stop at many large cities and small towns along the way. When we left Ft Eustis, we stopped at many small towns where High School Bands would be playing Dixie and other patriotic songs. As we went through the heartlands the American Legion, Red Cross & VFW would have refreshments prepared for us with heavy doses of Patriotism. Then we hit California and things turned for the worse. There were many protesters, mainly college students. They would throw water balloons at the train and shout expletives at us. There were few that defiantly laid across the tracks to impede our progress. Some of the guys begged our sergeants to let us off the train for physical confrontations.

I believe it was up the SGTs they would have. Oh Yes, our wonderful Press Corps were there egging everyone on, so they could get some juicy pictures. Finally the train rolled into a secure area. The Red Cross gave us coffee and donuts and we boarded the luxury ship USS Blatchford for our 30 day cruise to Viet Nam. After a year in Viet Nam we started our return trip back to the U.S. to return home. I thought this would be fun but you be the judge. Our plane took off from Saigon without much fuel and lifted almost straight up like a helicopter. The idea was to be light and gain altitude really fast so we would not be a good target. I thought there would be wild screams of joy and I couldn't wait for that. However, there was none of that. There was just a very quiet cheer. I believe the most of the guys on the plane had been traumatized in Viet Nam and couldn't feel joy. To this day I feel sorry for them. It seemed like forever as we finally landed in New Jersey. When the wheels hit the ground there was a fast, loud cheer and then the traumatized quiet. Poor guys. Oh how I felt for them and still do. Now they had to face the anti-war crowd again, who in a large part did not treat us well.
What profession did you follow after your military service and what are you doing now? If you are currently serving, what is your present occupational specialty?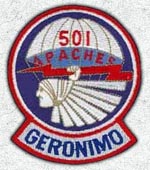 501st Logo
After I left the service, I was in the Sports Collectibles Business. I continued to freelance to help the Veterans. My favorite Freelance is called "Thanksgiving Miracle" and it took place last year. What TWS gives to all concerned is energy to help our family of Veterans and Active Duty Military. This is a message I read on the Virtual Vietnam Wall.

I'm looking for anyone who knew Private Geoffrey Saunders who was from South Florida. He was killed in Viet Nam in 1968. I have found all his medals, letters of Honor, the flag that was laid over the coffin and his family photos while I was clearing out my attic. The strange thing is we are only the 3rd family to ever have lived in this home. I contacted the previous homeowners to find out if it belonged to them or if they knew who's it was and they didn't know. The writer now asks if anyone has any info. I responded with this Tuesday Evening: Dear Meghan, It is very kind of you to try to find Geoffrey's family. Below you will find a few ideas on how to find them. In the papers that you found, did they list the cemetery that he was buried in. If so, try and contact the cemetery and perhaps they can help. I looked up Geoffrey on the Vietnam site. It stated that his religion was Episcopal/Anglican. I would contact churches or the Archdiocese of his religion in the area where you found the papers. I once was searching for the Grave site of a fallen hero, contacted the Roman Catholic Archdiocese, and they found the cemetery for me.

Geoffrey was in the 101st Airborne Division, which is a very proud Division. I would also google that Unit. I'm sure they have several associations that could help. A logo of Geoffrey's unit is attached to this answer. I would contact the local newspaper and local TV as they might do a story on this. Publicity will help. May God Bless your dear heart for undertaking this. She replied Wednesday morning with the following:. Thank you so much. I didn't even think of any of those. I am going to start with the Episcopal church and go from there. For some reason I just can't stop feeling sadness for his family for not having these precious items. I am so grateful for you guys and what you did for our country, the bravery is beyond words. Thank you so much, I can not believe how helpful the Military community has been. I will update you if I find them. Thank you, Meghan. I had some time Wednesday so I contacted a great searcher, a Jim Reece that I knew and had worked with before. By about 2 PM he gathered the following info. Email addresses of three of his Army buddies since no family member claimed the body, he found a certificate that had the address of someone who did . The above was emailed to Meghan.

With a bit of luck and lots of knowledge many doors were opened in rapid speed. I believe the "Big Guy" in the sky helped. I believe the quickness of the events is a Thanksgiving Miracle and will be remembered by all. Meghan is the type of person who will place the honored burial flag and medals in the right place. This is the last message I received from her OMG I am crying! I can not tell you how thankful for you I am. This is just amazing!!!!!! Thank you, thank you, thank you!!!!
What military associations are you a member of, if any? What specific benefits do you derive from your memberships?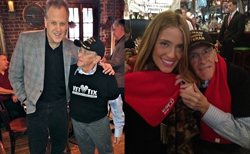 Kristin and Joe and Michael Kay
I am on the membership committee of the Veterans Tickets Foundation (VETTIX). I enjoy the reactions of Veterans as they attend the functions. They always say they have a feeling of being appreciated. I do a lot of voluntary work for the Veterans Tickets Foundation and also freelance projects. ESPN decided to have a luncheon prior to this years Veterans Day by invitation only. I was invited because of my contributions to Veterans Causes. Michael Kay, the official New York Yankees TV Announcer and star of his own daily Sports Talk TV Show, simulcast nationwide on the YES TV Network hosted. Several New York city Celebrities attended and it was held on the birthday of the United States Marine Corps. It was lots of fun and we enjoyed a super lunch. I had a brief conversation with Michael and was presented a beautiful red ESPN scarf as a token of appreciation for my efforts. It was a three hour affair and time just flew. It will always be a fond memory for me.
In what ways has serving in the military influenced the way you have approached your life and your career?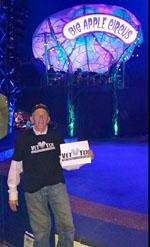 Big Apple Circus
I learned to appreciate humanity and was deeply moved by the sacrifices made by my sister and brother veterans. I was not injured in NAM but have deep feelings about my time there. I came home almost 50 years ago and tried to help Vets causes since then. Presently I'm a volunteer for Veterans Tickets Foundation (VETTIX). They provide FREE tickets for Veterans, there is no charge to join and you are under no obligation. Please email me at cardhaven@aol.com for more info. Recently, I contacted the BIG APPLE CIRCUS about their performances in New York City. They sent 50 complimentary tickets to be distributed by the Foundation. Not only that before the show started they announced to the audience our presence. WOW, I will never forget the ovation we received and the tears that started to flow in the Veterans eyes. We should always thank and support our donors.
Based on your own experiences, what advice would you give to those who have recently joined the Army?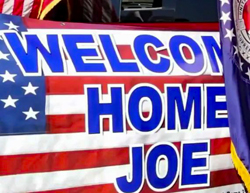 Have good times with Good Friends
Stay the course and success will come your way, either on the Military or Civilian Life. Realize that you have just entered a new phase of your life. The NCOs are here to train you and they may teach you something that could save your life. They are experts in what they do. Listen and Learn. You don't have to like your instructors but you should respect them. Always remember that there are no secrets in a barracks, Don't badmouth anyone, it will always come back and bite you. Adjusting to Army life is not easy. Think of your fellow recruits as members of your family. Learn to work together, The discipline that you learn here will help you in civilian life.
In what ways has TogetherWeServed.com helped you remember your military service and the friends you served with.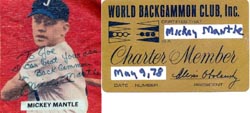 Mickey Mantle, 2nd place, Backgammon
A feeling of belonging and brotherhood. I learned to appreciate humanity and was deeply moved by the sacrifices made by my sister and brother veterans. One thing I learned from my service, is that "We are one and we are Family". We must all help each other be strong. I believe this is the spirit of Together We Served (TWS). During my professional career I helped generate the World Wide Backgammon Craze. I won the Mixed Pairs World Championship at the Waldorf Astoria Hotel in New York City in the 1970's. Because of being a big fish in a small pond I met Mickey Mantle who was a Backgammon enthusiast and became his coach.

Mickey gave me an autographed pictured which he signed, "I can beat your ass in Backgammon Mickey Mantle". It is a rare picture of him on the minor league Team, the Joplin Miners. I told Mickey about my volunteer work with the Veterans. He took to the idea of "We are Family". He arranged a party at Yankee Stadium to meet with some Vets. It was his way of thanking me for the lessons. It was an event that Veterans still talk about.