An up close and personal interview with U.S. Army Veteran and Togetherweserved.com Member:



MSG Jamie M Lethiecq U.S. Army (1998-Present)

PLEASE DESCRIBE WHO OR WHAT INFLUENCED YOUR DECISION TO JOIN THE ARMY?

My parents divorced while I was an infant and when I was 3 my mother was hospitalized for about a year, so my brother and I moved in with my grandparents. My brother and I lived with them until I was 12. At that point my grandparents started going to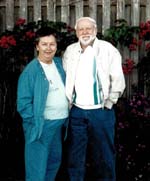 Florida for the winter. When I was 16 they remained in Florida year-round. Regardless of the separation, my grandparents remained my parents emotionally.

My grandfather had served in the Korean War though rarely shared stories because they were often pretty tortuous for him. He had been a spotlight operator which during the time was important for visibility on the battlefield during periods of darkness. It served doubly to make him and his men easy targets and to force him and his men to watch the most horrific ground warfare. At the end of the war, my grandfather returned to my grandmother, who he had married just before heading off in the Army. He served the rest of his adult life working in Civil Service as an employee and manager of AAFES.

While my grandparents were never hard up for money, their ability to support my brother and I through college was pretty limited. My mother had no means to speak of either. I went through school in New England there is a very strong emphasis going to college, but with it there was a very strong over-stressing of what was needed to get scholarships and grants. Since my school district had no high school, I had to take a bus 35 miles to the next county where they had a regional high school.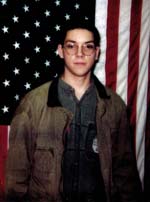 Additionally, since I had no car or license through high school (in fact I had no license until I was 21) I was unable to participate in many extracurricular activities. School counselors had always overemphasized their critical importance for college scholarships and attendance.

I wanted to go to college, but did not want to create an undue financial stress on my family. I had been made to feel as though I would have no shot at getting scholarships to alleviate that. I admired my grandfather and everyone I knew admired his service to the country, both in the Army and in Civil Service. As such, I made a decision marrying all of the factors together and enlisted choosing to be a 98XL heading to basic training and then DLI, a military college where they taught foreign languages according to my recruiter's guidebook.

WHETHER YOU WERE IN THE SERVICE FOR SEVERAL YEARS OR AS A CAREER, PLEASE DESCRIBE THE DIRECTION OR PATH YOU TOOK. WHAT WAS YOUR REASON FOR LEAVING?

As with most 98XLs, the first portion of my military career was devoted to becoming qualified in the job skills and linguistic specialization. I joined the Army as a PVT (E-1) and was promoted to SPC (E-4) before I had finished my Advanced Individual Training (AIT).

Once I left training after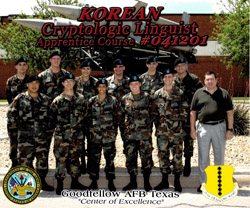 two and a half years of service, I reported to Camp Humphreys, Republic Of Korea (ROK) where I conducted my wartime mission day in and day out in support of strategic intelligence. I served one long three year tour (twice extended) in Korea during which I refined my understanding of intelligence and leadership. By the time I left, I had learned to operate not only as a 98G, but also as a 98C, 98J, and 33W, and served as a team leader, squad leader and section sergeant.

When I was leaving Korea, I was originally supposed to have gone to Fort Lewis; however, my unit was having a DA level inspection team come through and they wanted me to be there so my orders were delayed. Due to stop loss windows at Lewis, my orders got deleted and, as a Staff Sergeant, I was instead put on orders to Goodfellow Air Force Base to serve as an AIT instructor. I spent the next three years teaching both the Army Korean Course and Joint Non-Target Language Course. I also took the time I had to advance my military and civilian education.

When I was coming up on my last year at Goodfellow, I attended a recruiting brief with the Soldiers from one of my classes. Shortly thereafter, I submitted a packet to attend the Ranger Orientation Program for selection to the 75th Ranger Regiment. I was successful and spent five and a half wonderful years as an Operational SIGINT Team (OST) Team Sergeant, Platoon Sergeant, Battalion S2 NCOIC, and First Sergeant.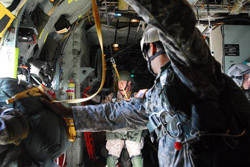 Having filled the one position available at my grade, I PCSed to the 10th Special Forces Group, where I was projected to fill the role of ACT-T Team Sergeant (a training and standardization for the unit's 35Ps). That, however, was not to be my role. Shortly before I arrived, the Military Intelligence Detachment NCOIC decided to drop his retirement packet so I was redirected to that position. At the time, the unit was going through a transition where the MID was to become a MI Company. I spent most of the next year setting up systems as the unit's first First Sergeant and then handed it over to one of the senior MI NCOs in the unit who needed the position for professional development.

At that same time, the Group's S2 NCOIC was leaving to head to the Sergeant Major Academy so I took his place. Not soon after that, I received notice that I had been selected for attendance at the Sergeant Major Academy myself (the first step in the Army's select-train-promote model). As I await my PCS, I am working to ensure that each and every one of the more than 300 Soldiers within my aegis are simultaneously both consummate Intelligence and world-class Special Operations professionals.

IF YOU PARTICIPATED IN COMBAT, PEACEKEEPING OR HUMANITARIAN OPERATIONS, PLEASE DESCRIBE THOSE WHICH WERE THE MOST SIGNIFICANT TO YOU AND, IF LIFE-CHANGING, IN WHAT WAY.

While it was never listed as such, I consider my time in Korea as combat operations since I was conducting my wartime mission every day. And, perhaps more importantly, it was the lessons I learned in Korea that were very easy to translate to combat operations I faced afterward. I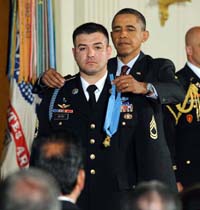 deploy twice while at the 75th Ranger Regiment. My first deployment was particularly significant to me, since it was not only the first time that I had deployed but also the first time that anyone on my team had as well.

I participated with one of my team members in the operation in Afghanistan for which SSG Leroy Petry was awarded the Medal of Honor and of more personal significance, the mission which SPC Christopher Gathercole lost his life. Rangers choose an Airborne Ranger in the sky in a way similar to having a patron saint, and though I hadn't personally met him, he will always be mine. That deployment was also, notably, the first deployment of the newly formed OST Team 2 and only the second deployment of OST. It was also the first deployment where OST divorced itself from its roots as a SOT-A/SOT-B lookalike, and functioned as a cohesive collection and analysis team.

My second deployment was to Iraq and despite the change of theater was far less novel, though due to the Soldiers on my team at the time it was very memorable. I unfortunately have not deployed since, due to being in a series of traditionally non-deploying positions.

OF ALL YOUR DUTY STATIONS OR ASSIGNMENTS, WHICH ONE DO YOU HAVE FONDEST MEMORIES OF AND WHY? WHICH ONE WAS YOUR LEAST FAVORITE?



Though I can say that I have never been unhappy anywhere I have been stationed (Iraq was cutting it close), my fondest memories are from being a First Sergeant at both the 75th Ranger Regiment and 10th Special Forces Group. While I look ahead to Sergeant Major and Command Sergeant Major, as I look back at when I was a very young Soldier, it was the role of First Sergeant that I aspired to be. I think that that is probably every Soldier's dream if they have aspirations in the Army. It is not because they look down on the positions beyond, but because they have better visibility of it and often both fear and admire the position.

As I alluded to, my least favorite location was certainly Iraq, though I cannot complain based off of where I was within the country, the relatively short period of time I was there for, and both the mission I was conducting and those I was there with.

FROM YOUR ENTIRE SERVICE, INCLUDING COMBAT, DESCRIBE THE PERSONAL MEMORIES WHICH HAVE IMPACTED YOU MOST?

While there are a lot of things that stand out to me, it has to be the funny briefings that have stuck with me the most. When I was an instructor, one of my students did a briefing on whether or not Kim Jong Il was in fact a Pygmy based off of a comment made by President Bush.

Also, as corrective punishment one of my Soldiers had to give a class on field hygiene and sanitation while we were deployed to Iraq and totally unintentionally it was the funniest briefing I have ever sat through.

WHAT ACHIEVEMENT(S) ARE YOU MOST PROUD OF FROM YOUR MILITARY CAREER? IF YOU RECEIVED ANY MEDALS FOR VALOR OR OTHER SIGNIFICANT AWARDS, PLEASE DESCRIBE HOW THESE WERE EARNED.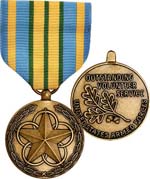 While I have quite a few awards, the one I am most proud of is the Military Outstanding Volunteer Service Medal because I was awarded it for actions I took in my own spare time to benefit the community. At the same time inspired by a Soldier who had been on my team, my Company Commander and I implemented a culture of volunteerism within our company in order to give our Rangers experiences that they might not otherwise have. I truly feel that we all were able to renew the same volunteer spirit which had led us to the military, to Airborne, and to the Rangers.

OF ALL THE MEDALS, AWARDS, QUALIFICATION BADGES OR DEVICES YOU RECEIVED, PLEASE DESCRIBE THE ONE(S) MOST MEANINGFUL TO YOU AND WHY?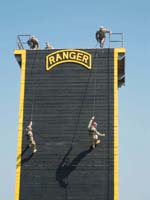 My Ranger tab stands out the most to me, though not for Ranger school itself. It stands out because of everything I had to do to get to the 75th Ranger Regiment and then within the Regiment to attend the training. Once there, short of quitting or getting hurt, you should make it through eventually.

When I arrived to the 75th Ranger Regiment, one of my board questions was why as a Sergeant First Class I had not already received my tab. The school had only opened to non-combat arms MOSs in 2005 and at the time it was only 2007. I had been an instructor for the full two years I might have had any eligibility to attend. My tab meant being a Ranger leader within an organization that prides itself on leadership, a far more meaningful lesson than any TRADOC course can provide.

WHICH INDIVIDUAL(S) FROM YOUR TIME IN THE MILITARY STAND OUT AS HAVING THE MOST POSITIVE IMPACT ON YOU AND WHY?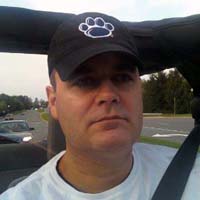 1SG John Senchak has always stood out as model for me and the many other Soldiers who served under his leadership at A CO 229th MI BN at DLIFLC Monterey, CA. While many had a very lackadaisical outlook on training in the late '90s (perhaps more so at the Department of Defense's premiere language school), He always pushed training and leadership to new levels invoking a SOF model when only a soft model was expected.

He was the first in a line of fantastic First Sergeants I have had throughout the years. Now that I have been a First Sergeant myself, I hope than was able to provide that type of leadership and training to my Soldiers.

CAN YOU RECOUNT A PARTICULAR INCIDENT FROM YOUR SERVICE WHICH MAY OR MAY NOT HAVE BEEN FUNNY AT THE TIME, BUT STILL MAKES YOU LAUGH?

When I was at Ranger school, one of the events we did was a buddy run which was followed immediately by the Malvesti Obstacle course. Just prior to going through the course we grounded our gear. Since I wasn't allowed to wear contacts while in the course, I was wearing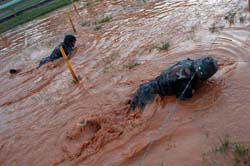 my glasses which I grounded as well because I had heard many a tale about individuals losing them in the mud. I thought nothing of it at the time since I had grounded my stuff right next to my Ranger Buddy's and we were supposed to go through the course together.

While going through the course, however, the Ranger Instructors wound up breaking up the teams if one line was flowing faster than another. When I finished, I was wet, standing in sub-freezing temperatures and my Ranger Buddy was nowhere to be seen (not that I could have seen him). We were all told as we finished the course that we had a certain length of time in which we had to be back in the bays since the temperature was so low. I, however, was blind, freezing, and could not find my equipment. I finally had to enlist someone else who simply wanted to run back to the warmth of the bays to help me find my stuff.

By the time we found my stuff and headed back to the bays to shower and change, what little hot or lukewarm water there had been was gone. Though I had actually finished near the front of the pack, I got to suffer through trying to wash Malvesti off with frigid water. I smile today at how much that sucked but it was Ranger school after all so I expected it to.

WHAT PROFESSION DID YOU FOLLOW AFTER YOUR MILITARY SERVICE AND WHAT ARE YOU DOING NOW? IF YOU ARE CURRENTLY SERVING, WHAT IS YOUR PRESENT OCCUPATIONAL SPECIALTY?


I am currently serving as Group S2 NCOIC in the only 10th Special Forces Group (Airborne). In the position, I am focused on mostly enlisted issues across more than 20 Military Intelligence and associated MOSs. I am proud to serve in this role as I am able to provide support and mentorship to so many outstanding Soldiers at a unit with a truly unique mission.

My personal goal is to help reshape the Military Intelligence capabilities within the unit to better meet the organization's evolving mission.

WHAT MILITARY ASSOCIATIONS ARE YOU A MEMBER OF, IF ANY? WHAT SPECIFIC BENEFITS DO YOU DERIVE FROM YOUR MEMBERSHIPS?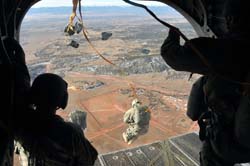 Amongst others, I am a member of the Military Intelligence Corps Association as well as a few Ranger associations. Just as I like to emphasize to my Soldiers while in Special Operations, one needs to balance being both an MI professional and a SOF professional. If either is ignored, then we will be failing in our mission.

While I have yet to apply, I hope to also join the Special Forces Association before I depart from 10th Special Forces Group. I have found that while such memberships don't hold that much importance while one is still part of an organization, they have far more meaning once one has departed. I know that I am very proud to serve in and will look back fondly upon my time at the 10th Special Forces Group and the Soldiers with whom I have served.

IN WHAT WAYS HAS SERVING IN THE MILITARY INFLUENCED THE WAY YOU HAVE APPROACHED YOUR LIFE AND YOUR CAREER?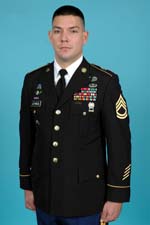 I have always seen myself functioning in a capacity of service to the public interest. Having served in the military since shortly after graduating high school, I can see myself continuing to serve even long after I have hung up my boots.

I hope to either work in civil service at the local, state, or federal levels or to teach. Both of these options are well reinforced by my service now: if I didn't like it now, I would pursue a different path altogether.

BASED ON YOUR OWN EXPERIENCES, WHAT ADVICE WOULD YOU GIVE TO THOSE WHO HAVE RECENTLY JOINED THE ARMY?

I would say not to settle for mediocrity. Always aim for something better and stay calm as you get some bumps and bruises along the way: that's life.

IN WHAT WAYS HAS TOGETHERWESERVED.COM HELPED YOU REMEMBER YOUR MILITARY SERVICE AND THE FRIENDS YOU SERVED WITH.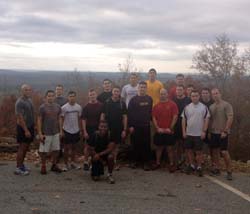 I don't have too many friends currently on Togetherweserved. However, I anticipate that they will choose to in the future. Together We Served provides me a good venue where I can post all my service information for reference.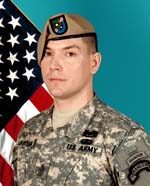 MSG Jamie Lethiecq
Contact This Member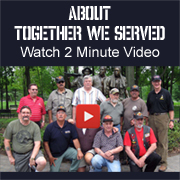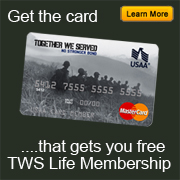 Read Other Interviews in the TWS Voices Archive