An up close and personal interview with Army Veteran and Togetherweserved.com Member:
1stSgt Frederick Waggett (US Army 1943-1946)
WHAT PERSUADED YOU TO JOIN THE army?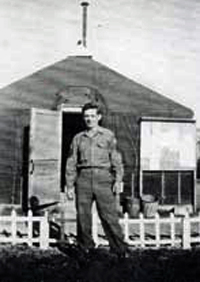 What stands out in my mind is a very quiet Sunday afternoon when I was only 17 years old sitting in our dining room, working to complete an English paper for school, when we got the word about Pearl Harbor. A group of about 15 of the neighborhood boys got together and decided that as soon as High school was finished we would enlist to get back at that attack as our saying was "don't get mad get even!" In 1943, before I had reached my 19th Birthday, I had volunteered for service and was on my way to Fort Devens Ayer, MA for Boot Camp.


BRIEFLY, WHAT WAS YOUR CAREER PATH IN THE SERVICE?

Following the IQ tests I was told by a Sergeant that I was to be assigned to the 79th Infantry Division but before I was transferred they recalled me for another IQ test. I had apparently done well and I had mentioned that I was fairly fluent in both the French and German languages. Then came other tests and I was told I would be assigned to an MP unit which could use my language ability. My first posting was to Camp Shanks where I was assigned to an MP Battalion that was being restaffed. I later went to Fort Custer for extensive Infantry training because if need be we would be used as an Infantry Battalion. After training I was transferred overseas.

DID YOU PARTICIPATE IN COMBAT OPERATIONS?

After we got to France, the 796th MP Btn had a myriad of duties, our activities there have been described as the greatest single challenge in the history of the Military Police Corps. We cleared and installed signage on hundreds of miles of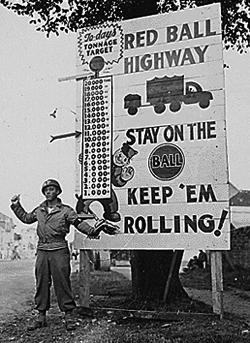 roads that were later referred to as "the Red Ball Express," that originated in the Contentin Peninsula and stretched to Chartres and Dreux. None of these roads had been reconnoitered or signed prior to our arrival and in my opinion were not entirely secure from enemy control. We later participated in the Battle of Northern France and Normandy, receiving a Campaign Star for those operations. As MP's we divided our time between infantry operations and traditional police work such as clearing and providing traffic control along the roadways. This became the standard for our unit in France, bouncing between infantry and police work, and I'm proud of the job we did. We were also involved in repelling the German break-through drive of 1944. We had members assigned to every echelon of command and provided what I believe to be the controlling influence by allowing other units to pivot and regroup during the operation.

Later on we were pulled back and attached to the 17th AB with Security duty for the unit that was to take part in "Operation Varsity" where they, along with the British 6th AB (Red Devils), jumped across the Rhine at Wesel. Security was very strict as the Germans knew of the jump but not any of the particulars. It was our job to assure security and secrecy so that the 17th AB could concentrate on preparing for the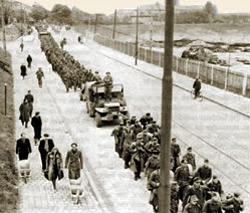 jump, our focus of effort to was to keep all "locals" away from the area. What bothered the AB Higher-ups was the fact that General Montgomery did not even mention the 17th's participation for four days after the jump. For this duty we were awarded a Campaign Star for the Rhineland Campaign participation

On multiple occasions while I was in theater I was asked to go with various Intel units to serve as an interpreter since I could read, write and speak both French and German. After performing a number of translator duty assignments I was at "Lucky Forward," the 3rd Army HQ, again serving as an interpreter when a full Colonel awarded me the CIB.

FROM YOUR ENTIRE SERVICE CAREER WHAT PARTICULAR MEMORY STANDS OUT?

As I said, I was used on an as needed basis as an interpreter/interrogator for French and German. In Belgium, we met with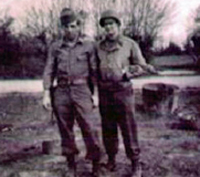 a "local" who was to provide some vital data regarding the Germans around the area. He started out speaking Flemish but I did not know how to speak that so I asked of he could speak German which he did. We talked for a while and I was growing tired and my French was better than my German so I side-mouthed the Officer next to me that I was going to try to switch to French. I did and this "local" did the same without missing a beat. After some time (it seemed an eternity) I told the Intel Officer I needed "to take ten" as mind and body were exhausted. Having just reached the age of 20 I thought I was a 4.0 interpreter - that obviously wasn't the case!

Smiling ear-to-ear the "local" said to me in accent free perfect English "You know Sergeant for someone so young you are damn good but I'm a little better." He was a Belgian Officer and a Rhodes Scholar who spoke 7 languages! I was so mad I could have shot him on the spot for what he had put me through. It all worked out though, he was a friendly who was testing us to be sure we were Americans, I'll never forget that experience.

WHICH INDIVIDUAL PERSON FROM YOUR SERVICE STANDS OUT AS THE ONE WHO HAD THE BIGGEST IMPACT ON YOU...AND WHY?

I remember a Lt Col at training school who emphasized that you should always follow legitimate orders and do everything by the numbers to avoid problems with superiors or troops under your command. I took that advice to heart and I suppose that's why I had few problems in the service so in a way, he had a big impact on me.

DO YOU HAVE A PARTICULARLY FUNNY STORY FROM YOUR SERVICE YEARS THAT YOU WOULD LIKE TO SHARE?

In Normandy, near either Rennes or Laval, I forget which on exactly, we decided to spend the night in a nearby farm house that was virtually intact. With us was a so-called "Platoon Sergeant" who had reached that rank in the National Guard through political influence back home. Most of the guys requested that they be allowed to stay behind him when advancing because he would fire at anything since he was so scared. Believe me, this guy was no leader, and I tried several times to unload him on another unit but with no success.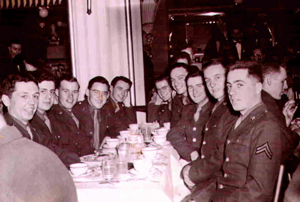 A couple of my NCO's came to me with a proposal they wanted to put in effect but to protect me they asked that I not get any details of the plan. I knew these men so I knew that it would be much better if I really could say after the fact that I had no knowledge of the prank.

To set the stage, since this was a farm the house had no indoor plumbing so there was a "slit trench" dug in a grove of trees nearby for all to use, it was out of sight and quite dark there.

In the barn we found a German bicycle, weapons and camouflage capes, that sort of thing, that had been left behind when we moved up and into the farm. The NCO's fashioned a figure in the shadows that from a distance was a work of artful deception, it looked like a German sniper who did in fact travel on bicycles for obvious reasons and some did travel alone. The bike, rifle, camo jacket etc. were all there and so they had everything they needed to set this up.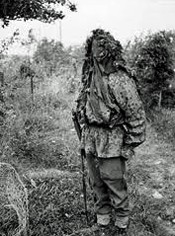 After eating and before bedding down the NCO's suggested a check of the perimeter and the slit trench area with the "Plt. Sgt." as the leader, but this was was after suggestive stories about hearing noises in the barn, across the road in the Hedgerow field and so forth which scared the living daylights out of our young friend. Off they went and in a few moments I heard ungodly screaming about a sniper in the grove so everybody went down ASAP. Not knowing any better, the "Plt. Sgt" threw a few grenades and shot up the make-believe sniper with a Thompson while the rest of the patrol was rolling on the ground with laughter.

From that day on, until he managed, and I don't know how, to be transferred back to England he carried his new nickname "Sniper."

WHAT PROFESSION DID YOU FOLLOW AFTER THE SERVICE AND WHAT ARE YOU DOING NOW?

Initially upon discharge I took as much time off as I could but then I went to work for the local electric utility company, Boston Edison. I made a career with the company and even met my wife there. I performed various functions with them over the years, eventually working my way up to being a Division Manager. It was our job to work with the Engineers for new projects and help coordinate funding, contractor support and progress reports on all projects. I was also involved with the transition to computer based management systems wen they came along. Right now, at age 86 and recently having become a widower after 58 years of marriage, I am just taking life one day at a time. As I did in my service years, I try to do things right the first time to make things easier on myself.

ARE YOU A MEMBER OF ANY MILITARY ASSOCIATIONS? IF SO, WHICH DO YOU BELONG TO AND WHICH ONE ARE YOU MOST ACTIVE WITH? WHY DO YOU PREFER THE ONE?

There was a time when I was active in the VFW but I've drifted away over the years, mainly due to health issues for my wife and I both and so now I'm not active with any military associations.

HOW HAS SERVING THE ARMED FORCES INFLUENCED THE WAY YOU HAVE APPROACHED YOUR LIFE AND CAREER?

The military taught me the importance of procedures and discipline. I took that with me when I transitioned to civilian life and to this day I keep my house and personal affairs in order with attention to detail and trying to do everything "by the numbers" to the best of my ability.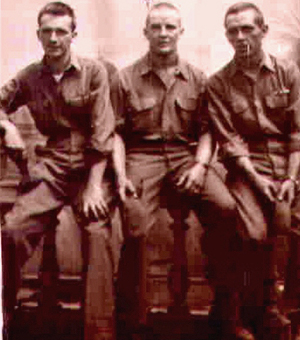 WHAT ADVICE WOULD YOU HAVE FOR THOSE WHO ARE CURRENTLY STILL SERVING IN THE MILITARY?

Remember and keep foremost in your mind that while you're serving everything you do should contribute to the success of your unit. Always keep that in mind that you're a piece of a larger whole, and that things like race, religion and gender are unimportant since you're part of a team that is only as strong as it's individual parts. I believe that if you use this to guide your actions both you and your unit will always be successful.

HOW HAS TOGETHERWESERVED.COM HELPED YOU TO MAINTAIN A BOND WITH THE SERVICE AND THOSE YOU SERVED WITH?

At my age, living alone as I do and with all the necessities of life to attend to, I actually have very little time for external interaction and so I don't get to participate on TWS as much as I would like to. I appreciate how TWS provides a link for me to those buddies I served with who are still around and how I'm able to make new friends along the way. Sometimes I feel like a dinosaur when I read the news of what's going on today and so it's helpful for me to recall memories of my time in the service and to stay connected, I am thankful to TWS for providing this service.

1stSgt Frederick Waggett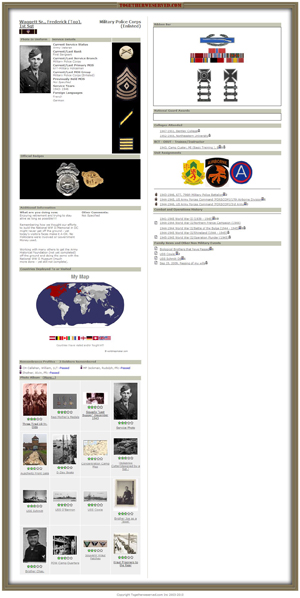 View 1stSgt Waggett's Shadowbox on TWS
TWS VOICES
TWS Voices are the personal stories of men and women who served in the US Military and convey how serving their Country has made a positive impact on their lives. If you would like to participate in a future edition of Voices, or know someone who might be interested, please contact the TWS Military Heritage Director
HERE
.
---
This edition of Army Voices was supported by: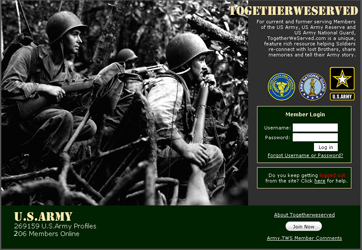 ---
Army.Togetherweserved.com
For current and former serving Members of the US Army, US Army Reserve and US Army National Guard, TogetherWeServed.com is a unique, feature rich resource helping Soldiers re-connect with lost Brothers, share memories and tell their Army story.
To join Army.Togetherweserved.com, please click
HERE
.
---