An up close and personal interview with Army Veteran and Togetherweserved.com Member:

LTC Hugh (Mike) Burns, Retired (US Army 1946-1969)



WHAT PERSUADED YOU TO JOIN THE SERVICE?



The Japanese had just attacked Pearl Harbor and we were now at war. Many of my school mates were dropping out of school and signing up so I decided to do the same.



BRIEFLY, WHAT WAS YOUR CAREER PATH IN THE SERVICE?



After being rejected by all four services because of poor eyesight, I joined the Merchant Marines where I served on a liberty ship in the Atlantic and Mediterranean. Enlistment requirements were eventually lowered in the Army so I signed up. I received Infantry Basic Training at Fort Bragg and was assigned to the 325th Glider Infantry Regiment, 82nd Airborne Division. I was sent to Germany for occupation duty with the 3118th Signal Company working in the I.G. Farim Building in Frankfurt, Germany. I was discharged in 1948 and after trying civilian life for a short while I re-enlisted. I was assigned to the US. Army Signal Photo Center in Long Island City, NY where I became a photographer. I was then assigned to a chemical unit in the Virgin Islands before returning to Ft. Monmouth, NJ as an instructor in photography. I extended my enlistment for a year so I could go to Hawaii in 1950. I instead ended up at the Pusan Perimeter in Korea with the 13th Signal Company, 1st Cavalrv Division as a combat photographer. I was transferred to the 187th Regimental Combat Team (Airborne) in Pyongyang, North Korea. After rotation out of Korea I joined the 108th Counter Intelligence Corps out of New York City. It was then that I went to Infantry Officer Candidate School at Fort Benning, GA. As a young Lieutenant, my first assignment was with F Company, 123rd Infantry Regiment, 44th Division at Ft. Lewis, Washington. The 44th Division's colors were returned to Illinois and we became F Company, 9th Regiment, 2nd Infantry Division. I then returned to Germany and was assigned to 3rd Btn, 6th Infantry Regiment and with the change, to the 3rd Battle Group, both in Berlin. I volunteered and served with the Special Forces in the 77th & 7th Groups at Fort Bragg then with the 1st Group in Korea as Detachment Commander. I later served a tour with MACV Advisory Team in Phu Cat, Vietnam then went back to Fort Bragg as an instructor at the JFK Special Warfare Center & School. My last duty station was in Korea with the United Nations Command as the Unconventional Warfare Officer.

DID YOU PARTICIPATE IN COMBAT OPERATIONS?

I served in the Korean War in the UN Defensive, UN Offensive, CCF Intervention, 1st UN Counter Offensive and the CCF Spring Offensive Campaigns from 1950-1951. These combat operations included being pushed back to the Pusan perimeter. I was wounded by mortar fire while probing enemy lines during Task Force Lynch when we were on a night breakout from the perimeter to link-up with the Inchon landing. I received the Purple Heart for those injuries. The situation was that we were ambushed by North Korean tanks in the dark as they were coming down the road, pushing our vehicles off. I still remember a Soldier from that operation who was on a tank calling for gas. I handed him a 5 gallon can and as he was pouring it when it exploded. I thought he was dead but saw him several years later at a CAV convention. When I was with the 187th, we were surrounded several times as we were headed south but we broke out each time. We eventually took Seoul and Pyongyang. Also in Korea, I made the combat jump at Munson-ni, an operation to cut off the Chinese retreat.

I later served in Vietnam: in 1960 with Operation Hot Foot and in 1961-1962 for Operation White Star. Hot Foot was a classified mission during which we wore civilian clothes to work with the Laotian Army. We were back in uniform for White Star where five other enlisted men and I worked with the Meo (Hmong) fighting the Pathi Laos (Communist) forces. I received my second Combat Infantry Badge during this tour.

Also in Vietnam, 1965-1966 and 1967-1968, I commanded a Special Forces B-Detachment in Pleiku with five A-Detachments in 2 Corps. Our company covered the Laos border area where the Ho Chi Min Trail was entering Vietnam. That assignment required continuous patrolling and our camps were often attached by mortar fire. I was in Saigon when the Tet Offensive started.



FROM YOUR ENTIRE SERVICE CAREER WHAT PARTICULAR MEMORY STANDS OUT?



I think for me the memory which most stands out is making Lieutenant Colonel with only a high school diploma and hot having attended the right Army schools along the way. It was a tremendous surprise to me that I was able to accomplish that.



WHICH INDIVIDUAL PERSON FROM YOUR SERVICE STANDS OUT AS THE ONE WHO HAD THE BIGGEST IMPACT ON YOU...AND WHY?



The person who influenced me the most was a General Fred Weyand. He commanded the 3rd Battle Group, 6th Infantry in Berlin. His leadership and guidance helped me greatly to be a better man as well as a good Officer.



WHAT PROFESSION DID YOU FOLLOW AFTER THE SERVICE AND WHAT ARE YOU DOING NOW?



I put in my retirement papers and my marriage papers on the same day so in that way I'm still on my honeymoon! I'm now fully retired and spend most of my time working around the house and tending a small garden - it's only been 40 years so I'm just getting started!



HOW HAS SERVING THE ARMED FORCES INFLUENCED THE WAY YOU HAVE APPROACHED YOUR LIFE AND CAREER?



I have internalized the Army spirit in all that I am and all that I do - U.S. Army all the way!



HOW HAS TOGETHERWESERVED.COM HELPED YOU TO MAINTAIN A BOND WITH THE SERVICE AND THOSE WITH YOU SERVED WITH?



TogetherWeServed.com is a great way to locate and make new friends. Through TWS I was able to contact an old friend that I served with in the Virgin Islands and haven't seen since 1949!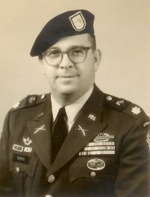 LTC Hugh (Mike) Burns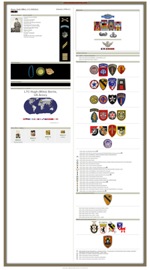 View LTC Hugh (Mike) Burns' Shadowbox on TWS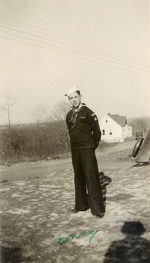 In the Merchant Marines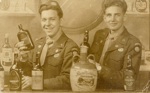 New York City
TWS VOICES
TWS Voices are the personal stories of men and women who served in the US Military and convey how serving their Country has made a positive impact on their lives. If you would like to participate in a future edition of Voices, or know someone who might be interested, please contact Major Wesley Prater
HERE
.
View the Complete Togetherweserved Voices Archive HERE


---
This edition of Army Voices was supported by: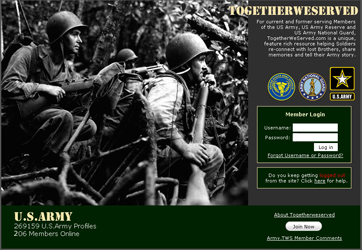 ---
ARMY.TOGETHERWESERVED.COM
For current and former serving Members of the US Army, US Army Reserve and US Army National Guard, TogetherWeServed.com is a unique, feature rich resource helping Soldiers re-connect with lost Brothers, share memories and tell their Army story.
---
Click
HERE
if you need a password reminder for
http://Army.Togetherweserved.com
.