| | | |
| --- | --- | --- |
| Photo In Uniform | Service Details | |
| | | |
Last Photo
Personal Details



Home State

| | |
| --- | --- |
| Florida | |

Year of Birth
1944

This Military Service Page was created/owned by

SGT Rick Dunn

to remember Blackburn, David Ray, 1LT.

If you knew or served with this Soldier and have additional information or photos to support this Page, please leave a message for the Page Administrator(s)

HERE

.

Casualty Info

Home Town
Cocoa Beach
Last Address
Cocoa Beach


---

Casualty Date
Nov 28, 1967
Cause
Hostile, Died
Reason
Air Loss, Crash - Land
Location
Dinh Tuong (Vietnam)
Conflict
Vietnam War
Location of Interment
Fort Logan National Cemetery - Denver, Colorado
Wall/Plot Coordinates
Section R Site 745
Last Known Activity
Last Name BLACKBURN
Given Names DAVID RAY

Date of Birth 19440630 06/30/1944
Service A Army
Service number: O5420306
Component V Reserve
Rank 1LT First Lieutenant
Grade and posthumous promotion O2
Service Occupation 1981 Rotary Wing Aviator (ARMY)
Actual Date of Casualty 19671128 11/28/1967
Actual Date of Death 19671128 11/28/1967
Tour Date 670814 08/14/1967
Posthumous decoration
Casualty Type A1 Hostile, Died
Reason B Air Loss, Crash - Land
Air no Air 4 Helicopter - Pilot
Body Recovered
Country VS South Vietnam
Province 30 Dinh Tuong
Casualty Location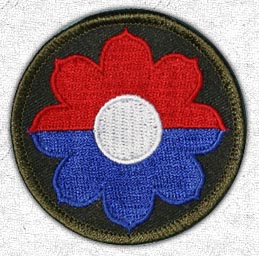 Major command, eg division or brigade 9th Inf Div
Company/battery/troop or similar level unit HHB
Battalion or similar level unit
Regiment, ROAD 9th Div Artillery

Home of Record City COCOA BEACH
Home of Record State Code Florida

Panel 30E
Line 82
DAVID RAY BLACKBURN
Army - 1LT - O2
| | |
| --- | --- |
| Age: | 23 |
| Race: | Caucasian |
| Sex: | Male |
| Date of Birth | Jun 30, 1944 |
| From: | COCOA BEACH, FL |
| Religion: | METHODIST |
| Marital Status: | Single |
Comments/Citation
Vietnam Wall Panel coords 30E 082

Field Artillery OCS Class 14-66 Fort Sill Oklahoma
Posted for: DAVID RAY BLACKBURN:
1LT Blackburn was the pilot of an OH-23G (Raven) Helicopter that was shot down while performing an aerial observation mission for Division Artillery, 9th Infantry Division. 1LT Edward R. Naylor Jr., a graduate of Field Artillery OCS Class 15-66 was the artillery observer on the mission and was also killed in the incident.
Posted by: Randy Dunham
Email: faocsalumni@sbcglobal.net
Relationship: Field Artillery OCS Alumni
Monday, August 17, 2009



DAVID RAY BLACKBURN
Posted for: DAVID RAY BLACKBURN:
As the Robert E. Lee High School Class of 1962 held its 40-Year Reunion on June 21-22, 2002, we learned of your service to our country, Dave, and of your ultimate sacrifice. We stand in honor and appreciation of you as a friend, a classmate, and as a soldier whose service and sacrifice for the freedoms we have continued to enjoy will not be forgotten. The Class of '62 will remember you always, Dave. With fond memories, Elaine Hicks LeBosquet
Posted by: E.H. LeBosquet
Email:
Relationship: We were high school classmates
Monday, June 24, 2002

OCS Classmates
Posted for: DAVID RAY BLACKBURN:
Dave and I were classmates at OCS. We then stayed at Ft Sill waiting for flight school acceptance. he made it I did not. He was a good friend. I have visited the wall and said hello on several occasions. A rubbing of his name is framed in my office.
Posted by: LTC Ned Matich, USa (Ret)
Email: nedmatich@comcast.net
Relationship: We served together
Saturday, June 2, 2007

OCS CLASS MATE
Posted for: DAVID RAY BLACKBURN:
DAVID AND I WERE OCS CLASS MATES. MY WIFE MARIAN AND OLDEST DAUGHTER LAURIE HAD A HOUSE IN LAWTON WHILE WE WERE IN OCS. DAVID WOULD SONETIMES STAY OVERNIGHT WHEN WE COULD GET PASSES. DAVID HAD A DATSON FIRELADY SPORTS CAR. IT WAS FUN TO RIDE IN. I THINK OF HIM OFTEN AND WILL NEVER FORGET HIM. DAVID WAS A GREAT FRIEND. I HAVE BEEN TO THE WALL TWICE. ON MY FIRST TRIP I LEFT DAVIDS CALLING CARD FROM OCS AT THE BASE OF THE PANEL WHITCH BEARS HIS NAME. I HAVE FOUND OUT RECENTLY THHT HE IS BURRIED IN DENVER, CO. SINCE I LIVE IN COLO. SPGS. CO. I HOPE TO VIIT HIS GRAVESITE SOON.
Posted by: ERROL PAIGE LANIER
Email: PAIGERMM@MSN.COM
Relationship: We served together
Sunday, June 3, 2007


Helicopter OH-23G 63-12823

---

Information on U.S. Army helicopter OH-23G tail number 63-12823
Date: 11/28/1967
Incident number: 67112828.KIA
Unit: 9 INF DIVERTY
This was a Combat incident. This helicopter was LOSS TO INVENTORY
for Artillery Adjustment
While in Operations Area this helicopter was in Orbit at 1200 feet and 040 knots.
The station for this helicopter was Dinh Tuong in South Vietnam
Helicopter took 2 hits from:
Small Arms/Automatic Weapons; Gun launched non-explosive ballistic projectiles less than 20 mm in size. (7.62MM)
The helicopter was hit in the Main Rotor Blade System
Systems damaged were: TRANSMISSION, MAIN ROTOR SYS, PERSONNEL
Casualties = 02 DOI . .
The helicopter Crashed. Aircraft Destroyed.
Both mission and flight capability were terminated.
Original source(s) and document(s) from which the incident was created or updated: Defense Intelligence Agency Helicopter Loss database. Survivability/Vulnerability Information Analysis Center Helicopter database. Also: OPERA, LNNF, FM232, CASRP (Operations Report. Lindenmuth New Format Data Base. Casualty Report. )
Loss to Inventory

Crew Members:
P 1LT BLACKBURN DAVID RAY KIA
OB 1LT NAYLOR EDWARD REYNOLDS JR KIA


War Story:
Sources indicate to the VHPA that these two men died in Dinh Tuong Province in the same aircraft while serving for a unit of the 9th Inf Div. The VHPA is very interested in knowing more about this event .