Photo In Uniform
Service Details

Last Rank
Sergeant
Last Service Branch
Transportation Corps
Last Primary MOS
67A-Aircraft Maintenance Apprentice
Last MOS Group
Transportation Corps (Enlisted)
Primary Unit
1969-1970, 67A, 121st Aviation Company (AHC)
Service Years
1968 - 1970
Last Photo
Personal Details



Home State

| | |
| --- | --- |
| Ohio | |

Year of Birth
1949

This Military Service Page was created/owned by

1LT Denny Eister

to remember Vaspory, William Louis, SGT.

If you knew or served with this Soldier and have additional information or photos to support this Page, please leave a message for the Page Administrator(s)

HERE

.

Casualty Info

Home Town
Dayton , OH
Last Address
Dayton , OH


---

Casualty Date
Apr 02, 1970
Cause
Hostile, Died
Reason
Air Loss, Crash - Land
Location
Vietnam, South (Vietnam)
Conflict
Vietnam War
Location of Interment
Dayton Memorial Park - Dayton, Ohio
Wall/Plot Coordinates
12W 085
Last Known Activity

jtbead@msn.com
Notes from The Virtual Wall
On 02 Apr 1970 UH-1H (tail number 66-16991) was hit in the cabin by a B-40 rocket, crashed, and burned. The pilot, WO Ed Skuza, and the copilot, name unknown, survived with injuries but five others died:
Aircrew, 121st AHC

SP5 Clyde L. Coffman, Warrensburg, MO (DoW 04/04/1970)
SGT William L. Vaspory, Dayton, OH
SP4 Thomas J. Silva, Napa, CA (DoW 04/03/1970)



MACV Advisor Team 71

1LT Henry N. Rockower, Merion Station, PA, MACV Advisor Team 71
1LT Si, ARVN (full name not known)
UH-1H 66-16991 was named "Tiger Surprise" and had been with the 121st since January 1969. There are several mentions of "Tiger Surprise" to be found on the Internet.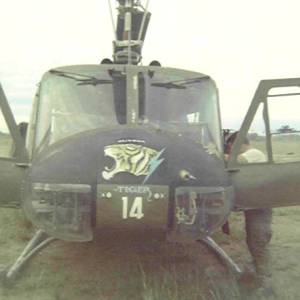 Photos courtesy of Sergeant
Comments/Citation

31 Dec 2006
William (Lajos as we called him) was my cousin on my father's side. I am Janet "Tomi" nee Orban the daughter of John Orban who was related to William's father, Albert Vaspory through his mother, Victoria nee Vaspory.
I have many fond memories of William in our childhood days as his family visited with mine frequently in the coalfields of West Virginia where I grew up. I did not know my Uncle Al's first wife or children - I only knew William's family which was his brother Michael, sister Christine and his mother, my Aunt Liz.
I did not know the entire circumstances of his death until I found this website. I do appreciate the information as we were all very close as young children.
I appreciate the opportunity to use this forum to say goodby to him and pay my fondest respects. My he rest in peace.
From his cousin,
Janet Mead
jtbead@msn.com