| | | |
| --- | --- | --- |
| Photo In Uniform | Service Details | |
| | | |
Last Photo
Personal Details



Home State

| | |
| --- | --- |
| Texas | |

Year of Birth
1925

This Military Service Page was created/owned by

SFC Edwin Sierra

to remember Lyall, Clarence Odell, MSG USA(Ret).

If you knew or served with this Soldier and have additional information or photos to support this Page, please leave a message for the Page Administrator(s)

HERE

.

Contact Info

Home Town
Orange County
Last Address
Not Specified

---

Date of Passing
Mar 19, 2012
Location of Interment
Not Specified
Wall/Plot Coordinates
Evergreen Memorial Gardens in Great Mills, MD
Last Known Activity
Clarence Odell Clancy Lyall served with Easy Company, 2nd Battalion, 506th Parachute Infantry Regiment, in the 101st Airborne Division of the United States Army during World War II. This unit would be popularized in the mini-series Band of Brothers based on the book by the same name. Clancy later served in the 82nd Airborne Division in post-war Germany and in 187th Parachute Infantry Regimental Combat team The Rakkasans in the Korean War.

He also served in Indochina. Clancy Lyall was born in Orange, Texas. His father, Arthur Edward Lyall, who worked on ships transporting oil from the United States to Scotland, was a Scot. His mother, Beulah, was a full-blooded Cherokee Indian from Oklahoma. His father met his mother on a trip to the US after wanting to see the native peoples in Oklahoma. They married and Beulah eventually moved to Orange Texas to set up a farm. Clancy was raised for a time with his maternal Grandfather on the reservation while the farm was being built. Once the farm was completed Clancy attended a one-room school and worked on his parents' 120 acre farm in Orange until they moved to Pennsylvania in 1939.

In the summers he would also cross the Sabine river to work in Louisiana, earning some money by picking Spanish moss for use as mattress batting. The skills he learned from the Cajuns in how to survive in the swamps would prove useful in his later military career as did the hunting and tracking skills taught to him by his Cherokee grandfather. Clancy also hunted cougar to bring in extra money for the family. World War II Clancy enlisted in the Army in November 1942 at Fort Indiantown Gap, Pennsylvania.

He received basic training at Camp Blanding, Florida. He then moved to Fort Benning for Paratrooper training. Clancy shipped overseas to England later in 1943 where he was assigned as an instructor for A Stage of the Airborne School at Chilton-Foliat. In March 1944 he was transferred to Headquarters Company, Second Battalion, 506 PIR, heavy weapons platoon. He jumped into Normandy on June 6, 1944 as part of the Airborne component of Operation Overlord.

He landed near Sainte-Mère-glise, 23 miles from his intended drop zone and fought with the B company, 508th PIR, 82nd Airborne, for the first few days before making his way back to the 506th. On June 13 he was bayoneted in the stomach while fighting in Carentan, France, and was evacuated to England for recovery. In Shifty Powers' biography, while recounting this incident, Clancy is described as, "a goodhearted farm boy from Texas." In August he was officially transferred to E company, Second Battalion,506th PIR.

A fellow soldier and author of his own World War II experiences, David Kenyon Webster also took note of Clancy and described him as, "very young, likable, and chatty."Webster also recorded their Platoon Sergeant Floyd Talbert's view of Clancy as, "a bright and eager younger brother who....would turn into a great soldier." Introduced with Clancy was Mike Massaconi, who Clancy would call his closest buddy during the war. In September 1944, Clancy jumped in the daring but doomed Operation Market Garden in the Netherlands.

He was wounded in the leg in fighting there in October. Clancy recovered from his wound and returned to his unit now located at Mourmelon, France. In December they were moved to the front in Belgium and fought in Bastogne, Belgium into January 1945. During the fighting there he was wounded a third time. It happened on the day after Christmas December 26, 1944. He was wounded in the head. It was bandaged up and he was further treated for his wound in a building. It would be the only time he saw the inside of a building during the entire Bastogne campaign.

He lost a good friend and fellow soldier Donald Hoobler to a tragic accident there. Easy Company, 506 PIR Zell am See, Austria. June, 1945. He took part in the fighting at Hagenau, in Alsace. In Germany they liberated a Nazi concentration camp at Landsberg near Memmingen, Bavaria. It was one of the most difficult moments of the war. Men wept at what they saw in the camps.

He remained with Easy company in Austria through the end of the war. He was among those who took Berchtesgaden and Hitler's Eagle's Nest in the closing days of World War II and was with the 506th in Zell am See. He reenlisted in 1945. He was transferred to the 82nd Airborne in Frankfurt, Germany. He served there through 1948. On January 12, 1946, he marched in the Victory Parade in New York City. He married his first wife Violet that same year.

He was stationed in Germany while the Nuremberg Trials took place. During this time he found and took in a former German paratrooper and his wife. He shared his own living quarters with them. He also provided a stamp book he had found in Berchtesgaden, which listed names of those who joined the Nazi party, to the judges there. In 1949, he received Recondo training, which ultimately included six weeks of Commando training in the UK. Korean War In 1950 Clancy was assigned to the 187th Parachute Infantry Regimental Combat Team.

Serving in the Korean War, he made two combat jumps one at Suk chon in October 1950, and one at Musan-ni in March 1951. The primary purpose of the Suk chon jump was to intercept retreating North Korean forces and free American POWs. Indo-China In March 1954, Clancy saw first hand the unfolding of the siege of the French Foreign Legion in the Battle of Dien Bien Phu. He was assigned as an adviser and intelligence gatherer for the French forces positioned there.

He evaded the closing ring of Vit Minh besiegers, escaping a few weeks before the French fortifications fell in May of the same year. Clancy's escape culminated under the cover of darkness with a painfully slow belly crawl across the flood plain which took him down to the banks of the Nam Yum River. The several hundred yard crawl took a few hours to complete. The current of the river carried Lyall silently downstream to his freedom. In 1955, Clancy was reassigned back to E Company, 506th Parachute Infantry Regiment, 101st Airborne Division at Ft. Campbell, Kentucky. Clancy retired from the service in 1959 after an injury from a training jump. He had made four combat jumps in two wars.
Other Comments:
After leaving the service, Clancy initially worked for a carpet firm. He moved to Florida where he worked for Carvel Ice Cream as a marketing director. He remarried in 1971. He eventually moved to Lexington Park, Maryland. Clancy had six children, nine grandchildren and one great grandchild. He continued to be very active in the service to his community and to fellow veterans.

Among numerous positions he held, he was VFW Commander Post 2632, American Legion Vice Commander, Lions Club President, President of Veterans of the Battle of the Bulge, and member of Southern Maryland Veterans Advisory Board. In 2005, Clancy was recognized as Native American by a chief of the Cherokee Nation and given the name "Silver Eagle." In 2008, he traveled to Kuwait with several other fellow E/506 veterans in coordination with Valor Studios and the USO to show their appreciation for the US troops serving there.

He died in the morning of March 19, 2012, at age 86 at St. Mary's Hospital in Leonardtown, Maryland. He was buried at Evergreen Memorial Gardens in Great Mills, Maryland on March 24, 2012.

 

Lyall, Clarence Odell


 

Birth: 1925-10-14 in Orange, Texas
Residence: Lexington Park, Maryland
Death: Monday, March 19, 2012
Laid to Rest: Saturday, March 24, 2012 in the Evergreen Memorial Gardens, Lexington Park, Maryland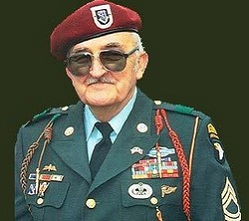 Clarence Odell "Clancy" Lyall, 86 of Lexington Park, MD died March 19, 2012 at St. Mary's Hospital. Born October 14, 1925 in Orange, TX, he was the son of the late Arthur Edward Lyall and Beulah (Mitchell) Lyall.

Clancy is survived by his wife Isabel (Dasilva) Lyall; his children, Wayne Lyall (Gloria) of Round Rock, TX, Linda Fitzgerald (Tommy) of Brooksville, FL, Tonia J. Gibson of Lexington Park, MD, Roy C. Adams of Supply, NC, and Arthur E. Lyall (Julie) of Great Mills, MD; grandchildren, Valerie Lyall, Danielle Gibson, Chelsea Gibson, Cody Gibson, Mason Lyall, Sydney Lyall, Christina Adams, Faith Adams Helms; and great-grandchild Dylan Beaver.

In addition to his parents, Clancy was preceded in death by his son, Ronald Lyall.

Clancy enlisted into the Army in 1942. He was assigned to the Second Battalion, 506 Regiment, 101st. Airborne Division. After fighting in Normandy he was assigned to Easy Company in Aldbourne, England in 1944. In Holland he was involved in the liberation of Eindhoven. On March 15, 1945, the 101st. Airborne Division received the Presidential Unit Citation. This was the first citation given to an entire division. In November 1945, Easy Company, was de-activated, and Clancy was honorably discharged.


Family will receive friends for Clancy's Life Celebration on Friday, March 23, 2012 from 5:00 p.m. until 8:00 p.m. in the Brinsfield Funeral Home, 22955 Hollywood Road, Leonardtown, MD 20650. A Memorial Service will be held at 7:00 p.m. with Bishop Joseph Dobson officiating. Interment will be on Saturday, March 24, 2012 at 10:00 a.m. in Evergreen Memorial Gardens, Lexington Park, MD.

Memorial contributions may be made to the Wounded Warrior Project, 4899 Belfort Road, Suite 300, Jacksonville, FL 32256.  Arrangements by the Brinsfield Funeral Home, P.A., Leonardtown, MD.



Clancy enlisted into the Army in 1942. He was assigned to the Second Battalion, 506 Regiment, 101st. Airborne Division. After fighting in Normandy he was assigned to Easy Company in Aldbourne, England in 1944. In Holland he was involved in the liberation of Eindhoven. On March 15, 1945, the 101st. Airborne Division received the Presidential Unit Citation.

This was the first citation given to an entire division. In November 1945, Easy Company, was de-activated, and Clancy was honorably discharged. He re-enlisted and was reassigned to B Company 508th Parachute Infantry Regiment, 82nd. Airborne Division in Frankfurt, Germany. In 1950 he was assigned to the 187th. Parachute Infantry Regimental Combat Team. In 1955, he was assigned to E Company, 506th. Para Infantry Regiment, 101st. Airborne Division.

During his military career he made four combat jumps and earned 25 decorations and citations that include the European-African-Middle Eastern Campaign Medal w/3 Bronze Service Stars and a Bronze Arrowhead, American Campaign Medal, Bronze Star Medal, Good Conduct Medal, Purple Heart, World War II Victory Medal and Belgian Fourragere. After his military career ended, Clancy was heavily involved in local organizations.

He was the Veterans of Foreign Wars Post 2632 Commander, American Legion Post 255 Vice President, Lions Club (Ridge) President, President of Veterans of the Battle of the Bulge; and a member of the 40/8's, Order of the Purple Heart, Disabled American Veterans, Fraternal Order of Police and Southern Maryland Veteran's Advisory Board.



http://www.findagrave.com/cgi-bin/fg.cgi?page=gr&GRid=87157631

http://www.508pir.org/obits/obit_text/l/lyall_co.htm
 
1942-1943, Camp Blanding Joint Training Center
1943-1943, Basic Airborne Course (BAC) Airborne School
1943-1943, 564, HHC, 2nd Battalion, 506th Infantry Regiment
1944-1944, 745, B Company, 1st Battalion, 508th Parachute Infantry Regiment (PIR)
1944-1944, 745, E Company, 2nd Battalion, 506th Infantry Regiment