Photo In Uniform
Service Details

Last Rank
First Lieutenant (Cavalry)
Last Service Branch
Cavalry
Primary Unit
1891-1893, 9th Cavalry
Service Years
1884 - 1893
Last Photo
Personal Details



Home State

| | |
| --- | --- |
| Louisiana | |

Year of Birth
1862

This Military Service Page was created/owned by

COL Samuel Russell

to remember Clarke, Powhatan Henry (MOH), 1LT.

If you knew or served with this Soldier and have additional information or photos to support this Page, please leave a message for the Page Administrator(s)

HERE

.

Contact Info

Home Town
Alexandria
Last Address
Not Specified

---

Date of Passing
Jul 21, 1893
Location of Interment
Calvary Cemetery and Mausoleum - St. Louis, Missouri
Wall/Plot Coordinates
Not Specified
Last Known Activity
Born in Alexandria, Louisiana, and graduated West Point in 1884. Commissioned a second lieutenant, in the 10th Cavalry(Buffalo Soldiers) at Fort Davis, Texas. Clarke was awarded the MOH, for rescuing one of his wounded troopers, Corporal Edward Scott, while under heavy fire from Apache hostiles. He also won a brevet, for action, against the Apache Kid band, on the Salt River in Arizona.

He commanded Apache scouts until 1891, when he became a 1st Lt. and transferred to the 9th Cavalry. In 1892 he was again assigned, to the 10th Cavalry, and was stationed at Fort Custer, Montana, until his death in 1893. Clarke was drowned in the Little Bighorn River, Montana, when he struck his head on a rock, after diving into the river, to rescue a soldier, from the flooding river.

He was married to Elizabeth Clemens and had a son.


Medal of Honor

See more recipients of this award

Awarded for actions during the Indian Campaigns



The President of the United States of America, in the name of Congress, takes pleasure in presenting the Medal of Honor to Second Lieutenant Powhatan Henry Clarke, United States Army, for extraordinary heroism on 3 May 1886, while serving with 10th U.S. Cavalry, in action at Pinito Mountains, Sonora, Mexico. Second Lieutenant Clarke rushed forward to the rescue of a soldier who was severely wounded and lay, disabled, exposed to the enemy's fire, and carried him to a place of safety.

General Orders: Date of Issue: March 12, 1891

Action Date: May 3, 1886

Service: Army

Rank: Second Lieutenant

Division: 10th U.S. Cavalry

Other Comments: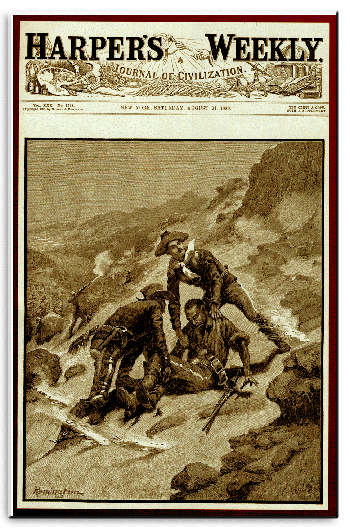 "A correspondent writes to Harper's Weekly concerning an act of bravery which, he says, 'under any nation under the sun but the United States would be fitly rewarded.' He says: 'Troop K, of the United States Cavalry, a regiment of colored men, but with white officers, while scouting in the Sierra Pinitas or Little Pines Mountains, in Sonora, Mexico, came upon a band of hostile Apaches, strongly posted upon an open plateau. In the resulting skirmish one man was killed and another seriously wounded. As Corporal Scott, the wounded man, fell to the ground, Lieut. Powhatan H. Clarke, the second in command, rushed forward through a heavy fire, took the corporal in his arms and carried him out of the line of battle to a place of comparative safety. Germany, France, England or any other foreign nation rewards its heroes with crosses, ribbons and stars, but our republic, in its Puritan simplicity, thinks an honorable mention in orders ample sufficient, and seldom grants that. I have not the slightest desire to see any order of nobility instituted in the United States, but so long as war lasts and brave deeds are told in song and story, so long will such decorations as are mentioned above improve the morale and increase the esprit of an army, whether that army belongs to a foreign power or our own republic.' This exploit of a Southern soldier risking his own life to save that of a colored comrade, apart from its merit as an act of bravery, is a conspicuous illustration of a phase of Southern character which some Northern people have not yet learned to appreciate."