Last Known Activity

General Orders HEADQUARTERS OF THE ARMY,
Adjutant General's Office,
No. 83. Washington, May 16, 1892.
The Major General Commanding takes pleasure in publishing in orders to the Army the names of the following officers and enlisted men who, during the year 1891, distinguished themselves by "specially meritorious acts or conduct in service;" those omitted from General Orders, No. 100, December 17,1891, from this office, are also included:

December 29,1890. Captain George D. Wallace, 7th Cavalry: For conspicuous gallantry in action against hostile Sioux Indians at Wounded Knee Creek, South Dakota, where, holding his ground against overwhelming odds, his death at the hands of the enemy terminated a notably honorable and useful career.


Wounded Knee Monument - dedicated in 1893
Fort Riley, Kansas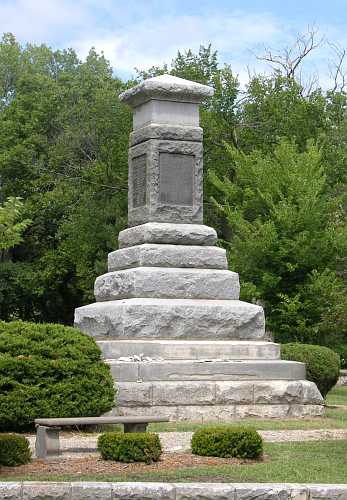 Comments/Citation

GEORGE D. WALLACE
No. 2419. USMA Class of 1872.
Killed, December 29, 1890, at Wounded Knee Creek, S. D., aged 41.
Headquarters 7th Cavalry,
Fort Riley, Kansas,
February 14, 1891.
Orders No. 21.
It seldom becomes the duty of a Regimental Commander to announce in the same order the death of two such valuable officers as this regiment has lost in Captain George D. Wallace, and 1st Lieutenant James D. Mann the former killed in battle with hostile Indians, at Wounded Knee, South Dakota, at about 9.20 A. M., December 29, 1890; and the latter, from a wound received in an engagement with hostile Indians on White Clay Creek, near Drexel Mission, South Dakota, December 30, 1890.
Captain Wallace was born in Yorkville, South Carolina, June 29, 1849. He was appointed a cadet in the United States Military Academy and entered that institution September 1st, 1868. He graduated high in his class, and was appointed a Second Lieutenant of the 7th Cavalry, June 14, 1872, and joined his troop " G " at Yorkville, S. C., October 1st of that year. He was engaged in protecting United States civil officers in the execution of their duties under the reconstruction and revenue laws until the spring of 1873, when the regiment was sent to the Department of Dakota.
He marched with his regiment from Yankton to Fort Rice, D. T., and on June 20th left Fort Rice with the Northern Pacific survey expedition under General D. S. Stanley, for the head-waters of the Mussle Shell river being engaged in action near the mouth of the Big Horn river with hostile Sioux Indians on August 11th, and making, in that engagement an excellent reputation for courage and efficiency under fire. In the summer of 1874 he was selected by Lieutenant Colonel G. A. Custer, to command the Indian scouts on the expedition from Fort A. Lincoln to explore the Black Hills region. Returning in the fall, his troop, with five others, was suddenly ordered to New Orleans, and later to Shreveport, La., where he was on duty as A. A. A. G. of the District of Red River until April, 1876, when he returned to join the expedition from Fort A. Lincoln, D. T., under General A. H. Terry, against hostile Sioux Indians, and was in the engagement on the Little Big Horn river, M. T., June 25 and 26. During this entire fight he was ever conspicuous by his gallant conduct. He was promoted 1st Lieutenant, and appointed Regimental Adjutant June 25, 1876, and resigned June 6, 1877, and took command of his old troop "G." In 1877 he was engaged in the Nez Perces campaign and took part in the fight with the hostiles under Chief Joseph at Canon Creek, M. T., and was commended in orders by his battalion commander for gallantry on that occasion. In 1878 he was again in the field in the campaign against the Cheyennes in northern Nebraska. Since that year he was on various duties, mostly in command of his troop, at the Infantry and Cavalry school at Fort Leavenworth, Kansas, and at the recruiting depot at Jefferson Barracks, Mo. He was promoted Captain of troop 'L,' September 23, 1885, but when troops L and M were disbanded, he was transferred to troop K. Captain Wallace endeared himself to all with whom he came in contact, and no words can now add anything to his military record, of which the foregoing is only a brief outline. He met his death with the same coolness and bravery which characterized his entire service in this regiment, as shown by the fact that when found he still held his pistol, every chamber of which he had emptied.
As a mark of respect for the memory of Captain Wallace and Lieutenant Mann, the officers of the regiment will wear the usual badge of mourning on their sabres for the period of thirty days.
By order of
L. S. McCORMICK,
1st Lieutenant 7th Cavalry, Adjutant