Photo In Uniform
Service Details

Last Rank
Chief Warrant Officer 3
Last Service Branch
Aviation
Last Primary MOS
153A-Rotary Wing Aviator
Last MOS Group
Aviation (Officer)
Primary Unit
2004-2004, 1st Battalion, 227th Aviation Regiment
Service Years
1985 - 2004
Official/Unofficial US Army Certificates

Operation Iraqi Freedom

Operation Enduring Freedom

Cold War Certificate
Last Photo
Personal Details



Home State

| | |
| --- | --- |
| Texas | |

Year of Birth
1965

This Military Service Page was created/owned by SGT Phillip Hanners (GA) to remember Fortenberry, Wesley, CW3.

If you knew or served with this Soldier and have additional information or photos to support this Page, please leave a message for the Page Administrator(s)

HERE

.

Casualty Info

Home Town
WOODVILLE
Last Address
Not Specified

---

Casualty Date
Apr 12, 2004
Cause
Hostile, Died
Reason
Air Loss, Crash - Land
Location
Iraq
Conflict
Operation Iraqi Freedom (OIF)
Location of Interment
Not Specified
Wall/Plot Coordinates
Not Specified

Last Known Activity

Army CWO Wesley C. Fortenberry
38, of Woodville, Texas.
Fortenberry died in Baghdad, Iraq when his helicopter was shot down. He was assigned to the 1st Battalion, 227th Aviation Regiment, 1st Cavalry Division, Fort Hood, Texas. Died on April 11, 2004.
Please send information, photos, and corrections for Army CWO Wesley C. Fortenberry.Chuck and I served together in the 82nd Airborne's Pathfinder unit at Fort Bragg in 1984 and 1985. He was a superlative soldier and an even better friend. My deepest condolences to Chuck's family. His memory will be in our hearts forever. We love you Chuck. Godspeed."
Ed Dalbey, U.S. Army (Airborne), ret. of Seattle, WA
Fortenberry had a variety of duties throughout his career, his father said. He served in the 82nd Airborne, became a Ranger and worked in Alaska before joining a warrant officer program to fly helicopters about 10 years ago.
Comments/Citation
CO. C 1ST BATTALION / 227TH AVIATION REGIMENT (1ST CAV), FORT HOOD, TX 76544 LOCATION:BAGHDAD, IRAQ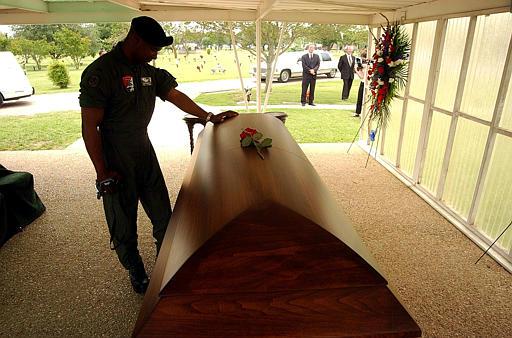 Chief Warrant Officer Micahel E. Hampton says his final goodbye to fellow pilot Chief Warrant Officer Wesley Charles "Chuck" Fortenberry after funeral services in Temple, Texas, on Thursday, April 22, 2004. Fortenberry, 38, of Woodville, Texas, died April 11 when his AH-64 Apache helicopter was shot down west of Baghdad by insurgents. Fortenberry and Hampton served together for 18 months with the 1st Cavalry Division at Fort Hood. (AP Photo/Killeen Daily Herald, Steve Traynor)