Last Known Activity

This is to Certify that
The President of the United States of America
Takes Pride in Presenting

THE
DISTINGUISHED SERVICE CROSS
to
VANDERVOORT, BENJAMIN H.


(First Award)
Citation:
The President of the United States takes pleasure in presenting the Distinguished Service Cross to Benjamin H. Vandervoort (0-22715), Lieutenant Colonel, U.S. Army, for extraordinary heroism in connection with military operations against an armed enemy while serving as Commanding Officer of the 2d Battalion, 505th Parachute Infantry Regiment, 82d Airborne Division, in action against enemy forces on 6 June 1944, near Ste. Mere Eglise, France. Though he sustained a broken foot in his jump, Lieutenant Colonel Vandervoort refused to be evacuated. He immediately, despite his painful injury, assembled and organized all the available troops from his battalion and personally led it through enemy held territory to the initial objective. With only first-aid treatment for his broken foot, he remained with his unit and directed the defense of its newly won position against a vastly superior enemy. With complete disregard for his own safety he continually moved about the foremost elements, subjecting himself to intense enemy rifle, machine gun and artillery fire. Inspired by his presence, his men successfully withstood repeated enemy counterattacks. Lieutenant Colonel Vandervoort's outstanding leadership, personal bravery and zealous devotion to duty exemplify the highest traditions of the military forces of the United States and reflect great credit upon himself, the 82d Airborne Division, and the United States Army.
Headquarters, First U.S. Army, General Orders No. 31 (July 1, 1944)
VANDERVOORT, BENJAMIN H.
(Second Award)
Citation:
The President of the United States takes pleasure in presenting a Bronze Oak Leaf Cluster in lieu of a Second Award of the Distinguished Service Cross to Benjamin H. Vandervoort (0-22715), Lieutenant Colonel, U.S. Army, for extraordinary heroism in connection with military operations against an armed enemy while serving as Commanding Officer of the 2d Battalion, 505th Parachute Infantry Regiment, 82d Airborne Division, in action against enemy forces in Holland from 17 to 23 September 1944. On 17 September the Second Battalion, 505th Parachute Infantry, Lieutenant Colonel Vandervoort commanding, landed near Groesbeek, Holland. Lieutenant Colonel Vandervoort hastened the reorganization and advanced with his leading element to capture the initial battalion objective in three and one half hours. On the afternoon of the 19th of September 1944, the Second Battalion moved into Nijmegen to attack prepared defensive positions including dug in anti-tank and machine gun nests and camouflaged snipers posts. Lieutenant Colonel Vandervoort supervised and directed the assault while continually under direct fire from these snipers. A coordinated attack was launched on the afternoon of 21 September 1944. Lieutenant Colonel Vandervoort established himself at a forward and exposed position to personally supervise and coordinate the progress of the Infantry and attached armored elements. Throughout the entire engagement, his total disregard for his own safety made possible the continued coordination which led to the final seizure of the bridge. Lieutenant Colonel Vandervoort's coolness, outstanding courage and initiative, and his resolute leadership contributed to the success of the mission of seizing intact the railway and highway bridges. His intrepid actions, personal bravery and zealous devotion to duty exemplify the highest traditions of the military forces of the United States and reflect great credit upon himself, the 82d Airborne Division, and the United States Army.
Headquarters, XVIII Airborne Corps, General Orders No. 10 (January 22, 1945)
Home Town: Gasport, New York

(Note: Most of the information available on LTC Vandervoort is in french - I need some additional information to get service dates correct. If you have the info, please leave a message on this profile - Thanks)

Military Service
After his service as a lieutenant in the infantry, he joined the newly established paratroopers in the summer of 1940. He became a member of the 505th Parachute Infantry Regiment of the 82nd Airborne Division, when it was created.
Capt. Vandervoort was the S-3 of 505th commander Col. James M. Gavin when the regiment was dropped over Sicily during the Operation Husky. Later he was made a company commander in the same regiment.

After being promoted on 2 June 1944 to Lieutenant Colonel, he commanded the 2nd Battalion, 505th PIR and led it in the American airborne landings in Normandy and in Operation Market Garden. General Matthew B. Ridgway described Vandervoort one time as "[...] one of the bravest and toughest battle commanders I ever knew". In Goronne he was wounded by mortar fire, so that he was unable to take part in the divisions' pursuit to Germany.

"...Under heavy snowfall, D Btry's 2d Lt Henry G. Coustillac, O-1051916 (KIA 7 jan 45), got orders to advance his platoon together with 2d Bn, 505th PIR (code name < CHALLENGE / WHITE), which was to capture the town of Goronne, defended by Volksgrenadiers with tanks . A gun section of A Btry was also assigned the job, just to bolster the assault, though some people were just wondering what they and their peashooters could do to get the paratroops past those German Tigers . As a matter of fact, some heated discussions were exchanged among commanders about being sent on a 'suicide' mission . The 505th Parachute Infantry trudged thru heavy snow on January 7, D Co advancing upon German foxholes and positions overlooking Goronne and Thier-du-Mont (508th PIR sector) . E and F Co, 505th, were to attack along the road with Sherman tanks in support, but the German Tiger tanks knocked them out in short order, bottling up the advance . Being unable to communicate with D Co, Lt Col Benjamin H. Vandervoort, O-22715 (CO > 2d Bn / 505th PIR) sent Lt. H. G. Coustillac and a 57mm AT gun crew to D Co's position (CO > Lt James Joe Meyers) explaining the situation, and telling him, should D Company take the hill, he would come up with a 57mm gun and try to get a flanking shot at one of the Tigers … With a close-in firefight in progress, Lt H. G. Coustillac moved up with his fellow officer, Lt J. J. Meyers, when enemy mortar fire landed on them, instantly killing Coustillac ! Down below, Lt Col Benjamin H. Vandervoort, was discussing the situation, and preparing to reinforce D Co with Hq personnel . He was also subjected to enemy mortar fire . An 80mm shell exploded nearby, and white-hot shrapnel hit him in the face, he would eventually lose his left eye in the process, thereby ending his further career as 2d Bn Commander of the 505th PIR, a huge blow for the Regiment "

In 1946 Vandervoort retired from the U.S. Army.
Post War
After he left the army Vandervoort worked for the CIA. He had two children with his wife Nedra; a son and a daughter. Benjamin Vandervoort died on the 22 November, 1990 at the age of 75 years at a nursing home from the effects of a fall.

Popular Culture
Vandervoort was portrayed by actor John Wayne in the movie version of Cornelius Ryan's history of D-Day, The Longest Day. The role was actively sought by Charlton Heston but the last-minute decision of John Wayne to take a role in the film prevented Heston from participating. At the time of filming, Wayne was 27 years older than Vandervoort had been on D-Day; in fact, Vandervoort was still a decade younger than Wayne when the film was made.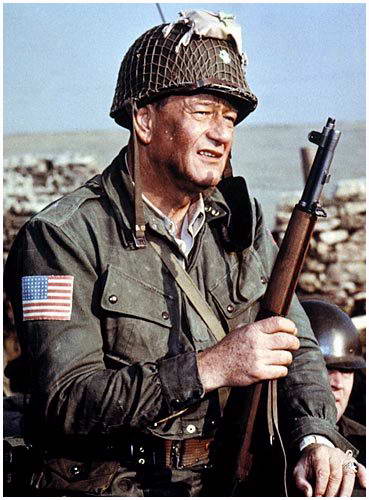 John Wayne as Lt.Col. Benjamin Vandervoort
Literature
Michel de Trez: Col. Ben Vandervoort "Vandy" 0-22715 (Way We Were), D-Day Publishing, 2004, ISBN 2-9600176-7-6
Benjamin Hayes "Vandy" Vandervoort (3 March, 1917 in Gasport, New York - 22 November 1990) was an American soldier with the rank of Lieutenant Colonel, who fought in World War II. He was twice awarded the Distinguished Service Cross.